If you are here definitely you want to spend money on an electric guitar, spending a bigger amount on an electric guitar can be tricky. You can find the best guitar from $300 and you can spend a great amount up to $900-1000.To know what you are looking you should sort thousands of different guitars, which is a true method. Here we are going to review some best metal guitars under $1000. This price point is fit in about finish and quality for different guitar brands.
Yes, we are exploring some best metal guitars; however, defining the best metal guitars is a difficult task as because they have different preferred designs and subgenres. Fortunately for us, we have a community of guitar players who reviewed these products.
You may check 7-Easiest Action Acoustic Guitars for Beginners(Buyer's Guide)
In this post we are sharing some guitars under $1000 and if you are looking for something in this budget you are in the right place. All the products reviewed here are six-stringed. Be sure to stick around after the table for some additional information in choosing your guitar.
This is a great electric guitar that delivers crushing electric tones to satisfy any metal player. It's the mahogany body has an ultra access cutaway that really lets you get all the way up the 3 Piece mahogany necks. Its fretboard is of rosewood, have 24 extra jumbo frets which give an extra look which is more edged by gothic cross inlays.
Another main important feature of this guitar is of its electronics. In this guitar, EMG 81 TX is being used at the bridge and EMG 89 at the neck especially in models near this price range which is new configuration.
Its black cherry biding with white and another one with pearl grey binding on the black finish gives an extraordinary look.
You may find 7-Best Small Body Acoustic Guitar under $500
This type of guitar does one thing exceptionally well but also capable of doing things you want from it. If you are looking for a guitar which is a little bit harder this is the guitar you can go for it.
Main Features of this Guitar are as under
Pick up switch is 3 way
Cutaway: Ultra Access
Knobs: single coil 81 TW push/Pull knobs
Fret Board: Gothic cross fretboard inlays
Fret: Jumbo 24X
Volume/Tone Control is controlled separately
You will love to have this best metal guitar under $1000 which has made with the covering of a Solid-body Electric Guitar along with the perfection of its Alder Body; you will also get to see its Caramelized Maple Neck, and as well as Caramelized Maple Fingerboard.
However, this metal guitar under 1000 dollars contains 1 Single-coil Pickup, along with its 2 Humbucking Pickups, and of course, Gotoh Tremolo – Satin Orange Crush.
This is the most stylish yet outstanding metal guitar which delivers some crisp and clear sound which gives you some solid vibes for sure. A stunning new and improved design guitar is combined with the crushing tone and elegant style to enhance your overall performance.
Quick features:
CRUSHING TONE: with this new design, you will experience some crushing sound tone along without any boundaries.
ROD ADJUSTMENT WHEEL: there are so many features in the guitar in which you will get sculpted heel, and as well as heel-mount truss rod adjustment wheel.
SILKY SMOOTH HAND RUBBED URETHANE: the whole guitar has covered with the Luminlay side dots and doesn't forget to notice its silky-smooth hand-rubbed urethane finish.
FINGERBOARD: also, the guitar built with the 12"-16" compound-radius fingerboard with caramelized maple features sufficient rolled edges, pearloid dot inlays, 24 jumbo frets, and Graph Tech® nut.
3. Schecter C-6 FR DELUXE Satin White Solid-Body Electric Guitar, Satin White
The metal guitar around 1000 dollars, which would allow you to play like a professional guitarist. You will find the increment in your skills and techniques while playing with the guitar.
With its solid body, you will experience the speed and performance to turn out your time with a full vibrant tone. However, in terms of support and comfort, this suitable guitar would be enough for you to provide the tone and of course, sustain that you ever needed.
Thus, this best metal for 1000 dollars contains some exciting features in which you will see a graceful 3-D-shape Mahogany body which has covered with the stunning Flamed Maple top.
Also, with the help of its cutting-edge 3pc Maple/ Bubinga neck of "Nitro Wizard", definitely offer you with the greater speed and overall stability than ever.
Quick features:
EBONY FRETBOARD: this feature will provide you with a quick response and as well as with the great articulation to enjoy down-tuning.
GIBRALTAR STANDARD II BRIDGE: which further improves sustains and offer you some faultless intonation.
LOCKING MACHINE: with the feature of its Gotoh locking machine heads help while offering you with the superior tuning stability and as well as you will enjoy some expedite string changes.
FUSION EDGE PICKUPS: its Fusion Edge pickups have been managed to further create a powerful, unique tone with a crisp.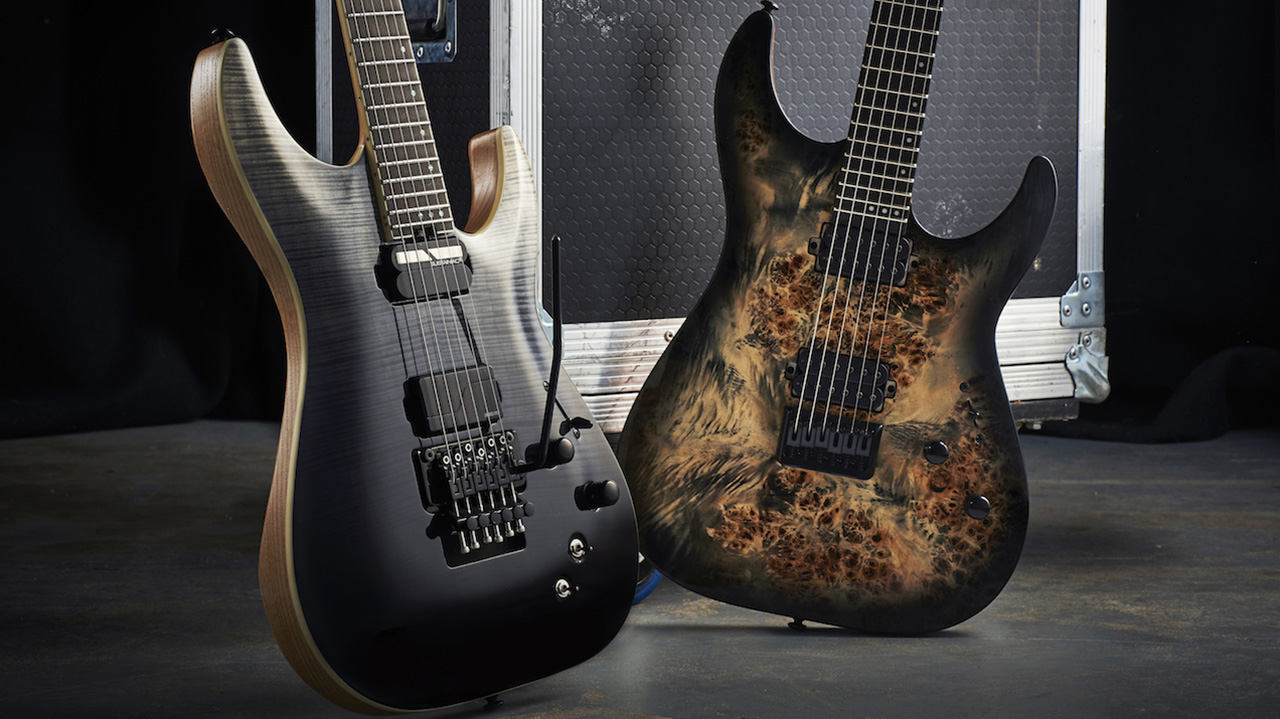 4. Gretsch G9201 Honey Dipper Metal, Best Electric Metal Guitar
The Gretsch G9201 Honey Dipper metal resonator guitar is here to double up your sonic arsenal with the stokes of genuine resonator tone.

The best metal electric guitar under 1000 dollars which has come with a unique and solid nickel-plated brass body along with a super-cool and improved finish of weathered pump house roof.
However, the best metal under $1000 will provide a comfortable yet very light to handle v-shape mahogany neck and as well as slick-fretting rosewood fingerboard which will further provide you with the G9201 as easy to play just like a regular kind of guitar, no more issues and no more difficulties, just play it and enjoy it like never before.
Quick features:
HANDSPUN BISCUIT CONE: this will build up the impressive and clear volume by which you will enjoy the room filling gatherings easily.
JOINING "F" SOUNDHOLES: these are here to offer you with something more and something different sounds tracks to further enjoy ahead.
BODY: the guitar made with the powerful yet solid Acoustic Roundneck Resonator Guitar which also has a Nickel-plated Brass Body.
ADDITIONAL FEATURES: the guitar built with the additional features include Rosewood Fingerboard; Mahogany Neck; and as well as Eastern European Hand-spun Biscuit Cone.
5. Seagull S6 Original Acoustic Guitar Limited Edition Metal under 1000 Dollars
This is the most outstanding, stylish, yet very handy guitar which gives you the expression of professionalism and as well as; you will enjoy while playing with the guitar and never wants to put off your hands back. The best metal acoustic guitar under 1000 which designed with the qualities like Gorgeous domestic wild cherry back and its unique sides that will provide you with a unique tone toward this S6 Original from Seagull.
However, you will love to use this best electric acoustic guitar under 1000, and it's blending sound performance which will surely make you mesmerize with the audio clarity and deep sounds. Thus, when we talk about the features of this guitar which have made with the Silverleaf maple neck against a shorter 24.84″ scale along with a rosewood fretboard, which is so simple and easy on the fingers, making this another best budget guitar under 1000 dollars.
Quick features:
SPECIALLY ALIGNED MACHINE HEADS: that could provide you with the stable and quick tuning, without even wasting your time. Perfect for an intermediate level of players who want to learn some new techniques of different soundtracks.
SOLID CEDAR TOP WILD CHEERY BACK: the back of the guitar made with the cheery back finish and some other features include sides Rosewood fingerboard and as well as bridge Tusq nut.
LACQUER FINISH: it is also has a compensated saddle Semi-gloss lacquer finish.
6. Asher Electro Hawaiian Junior Lap Steel Guitar – Tobacco – Best Budget Electric Guitar
Traveler Guitar Guitar 6 String Travelcaster Deluxe Electric, Right, Gloss Black/Black, Full (TCD BKG)
The best metal guitar under 1000 which offers you with the features like it is a 6-String lap steel slide guitar which will provide you with 25-inch scale and along with its two humbucker pickups so that you can wildly enjoy the sound of the guitar while trying some different soundtracks as well.
However, you will surely love this best metal under 1000 which will also give you some other attractive features like Solid mahogany with neck over the body construction, which will offer you with the amazing sustain.
Just grab the guitar and start practicing performing on the final stage performance, the guitar will never disappoint you, and the quality is superb for sure.
Quick features:
SUITABLE FOR EVERYONE: the guitar is the perfect piece of steel which can be suited to everyone from beginners to the professionals, anyone can enjoy the performance.
PLAY DIFFERENT MUSIC STYLES: it will be too good for you to play any music styles including rock, country, blues, and much more.
CONSTRUCTION: the perfection of the Solid mahogany along with the complete neck-through-body construction will surely produce such impressive depth and sustain.
COMPONENTS: the guitar built with two high output humbuckers, along with a custom Asher bridge by Hipshot, as well as master volume and master tone controls while providing you with a 3-way toggle so that you can get complete control.
7. Ethan Hart Guitar EH-1 Black Single Cutaway with White Binding
Traveler Guitar Ultra-Light Solid-Body Electric Guitar (ULE BKM)
You will love to see its Symmetrical contemporary design which provides you with the deep capped heel along with 8-ply binding to improve your performance and overall stability.
This is the best metal guitar under 1000 which gives you so much easiness and simple forms to further increase your skills and you can able to play different music styles like a pro.
However, the best metal guitar under 1000 that comes with the Seymour Duncan Blackouts and offer you with a free Heavy Duty Reunion Blues Gig Bag, 3-piece reverse grain maple body, Ebony Board, mahogany back, these things will make the guitar super rock star and very lightweight for all the players out there. Beginners, intermediate, and professionals, anyone can play out some vibrant tones with the help of this full black finish guitar.
Quick features:
EXCEPTIONAL SOUND: the guitar will always deliver the exceptional sound quality in which you can perform with the better tuning system and overall durability.
SOFT STRINGS: the strings are so soft to your fingers that you don't need to take any protection at all, grab the guitar enjoy the sound ahead.
MUSIC STYLES: it can easily play many different music styles so that your performance will rock the stage in your starting career.
8. D'Angelico Premier Grateful Dead Bedford Electric Guitar Metal – Antique White
The Grateful Dead Bedford provides you with the amazing features of the iconic multi-colored Dancing Bears that stepping up the body and of course, over the fingerboard.
However, the best electric guitar with metal under $1000 which can easily Be Extending from the Grateful Dead Bedford's form finish, while offering you to play constantly without any stopping sound or difficulty.
This could be the best choice for you to start your practicing over the lightweight and comfortable guitar which is not just for enjoyment but for as brilliant soundtracks.
Also, you can see its Push/pull tone knobs feature which is here to provide you with the easy coil-tapping, increasing your humbucker's limit of tones to cover some kinds of spanky single-coil sounds.
Thus, the best electric guitar with metal under 1000 dollars that also comes with the aesthetic nod to the hollow body made designs which will further offer you with the perfect hand grip.
Quick features:
F-HOLE PICKGUARD: this feature will eventually bring out a new and improved unique swag to the body so that you can handle the guitar with comfortably.
SLIM AND UNFINISHED MAPLE NECK: which will further offer you with the guarantee of playability and overall performance?
NO PAINS AT ALL: you will never feel any pain when you start using the guitar, say thanks to the structure and design of it which prevent you from No sticky hands, and no wrist-ache- but the only comfort.
Conclusion:
So, choosing the best metal guitar under $1000 have become easy now, after this top products collection. You will love to see those guitars mentioned above features and qualities which all have one purpose to improve your performance and offer you with high-quality deep sound.
Now, choose your favorite one among them and don't forget to share your thoughts and experience with us in the comment section below…
If you're interested in, Read More: 8-Best Metal Guitars under $500-Expert Reviewed